Fan Nozzle FAN-515-34
Price Each : $479.00
Fan Nozzle for blast cleaning.  Is a short light weight (7 oz) fan nozzle, specially designed for close up blast cleaning applications e.g. as found in Cabinet blast cleaning. Our Fan nozzle has a flatter and wider blast pattern than a standard short straight bore of short venturi nozzle and has similar air needs as a # 3 nozzle.   Fan dimensions 19/32″" Wide  X 3/16″ high.  This is starting fan size and abrasives stream will have a small  flair out from this dimension.
| | |
| --- | --- |
| Weight | .5 lbs |
| Dimensions | 3.40 × 1.12 × 1.12 in |
| color | Silver |
| Nozzle Liner Material | |
| Model | FAN-515-34 |
| Threads | 3/4" NPSM |
| SKU | 10040515 |
Available on backorder
Add to wishlist
Add to compare
Description
Boron carbide Fan Nozzle (Closed style):
Fan Nozzle for blast cleaning a wider blast pattern when close-up blasting. Our compact fan nozzle with a 19/32″ wide fan is an especially useful tool for blast cleaning small flat surface parts in workshop or blast cabinets applications.  Fan nozzles produce a wider rectangular shaped blast pattern than a standard round exit nozzle.
Features:
Light weight
Armored Jacket
Boron carbide liner
3/4″ NPSM threads
Similar air consumption as a # 3 nozzle
Wide spray
Our Boron carbide fan nozzles are supplied with an armored steel jacket &  are supplied with industry standard ¾" NPSM threads.  Can be used to blast clean with a wide variety of abrasives including aggressive aluminum oxide!  Similar air requirements as a # 3 standard blast nozzle.
Alternative fan nozzles with 1-1/4″ threads:
If you are looking for a larger fan nozzle with 1-1/4″ NPSM threads then see our open style fan nozzles.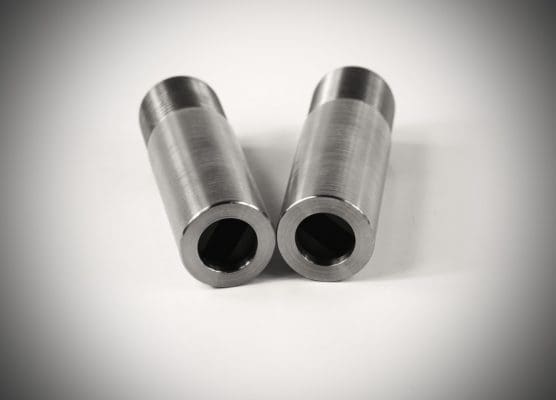 Model: FAN-515-34
Width:  15 mm / 19/32″/0.59″
Fan Height:    5 mm / 3/16″ /0.22″
Fan Size Sq. inches:   0.59 X 0.22″ = 0.13 sq. inches
Length: 3.4″
Threads: 3/4″ NPSM
Air Consumption: Similar to # 3 nozzle
Additional information
| | |
| --- | --- |
| Weight | .5 lbs |
| Dimensions | 3.40 × 1.12 × 1.12 in |
| color | Silver |
| Nozzle Liner Material | |
| Model | FAN-515-34 |
| Threads | 3/4" NPSM |
| SKU | 10040515 |